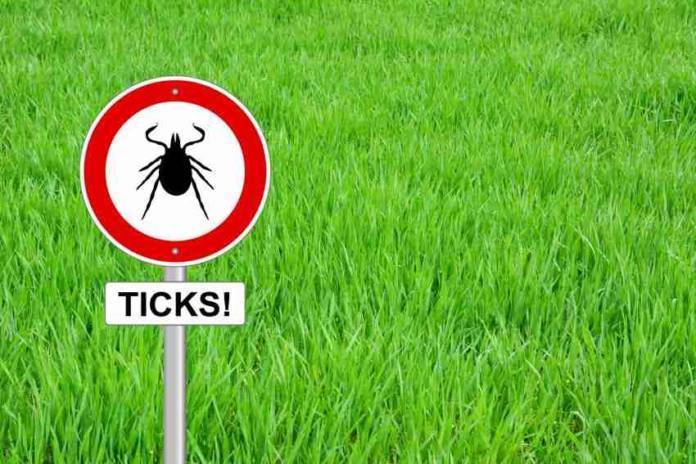 Lyme disease is an infection caused by Borrelia burgdorferi, a corkscrew-shaped bacteria called a spirochete (pronounced spy-ro–keet). Lyme disease is transmitted to humans through the bite of a tick carrying the bacteria.
Lyme disease is surrounded by misinformation and lack of understanding, both in the medical community and in the general population. An undiagnosed or undertreated infection can result in chronic, debilitating symptoms.
The purpose of this article is to dispel common myths about Lyme disease and to spread awareness of this serious and misunderstood illness.
Lyme Disease: 13 Common Myths
Myth #1: Lyme Disease is Rare
According to the Centers for Disease Control and Prevention (CDC), Lyme disease is the fastest growing Vector-Borne Disease in the United States.1 The CDC estimates 329,000 new cases of Lyme disease are diagnosed each year, 10 times more than previously thought. 2 3
Myth #2: Lyme Disease is Only an East Coast Problem
"The recent confluence of environmental, ecological, sociological, and human demographic factors has created a near 'perfect storm' leading to more ticks in more places throughout North America."
In the last ten years, ticks carrying Lyme disease have been reported in all 50 states, with the highest numbers in Connecticut, Rhode Island, Maryland, New Jersey, Massachusetts, New York, New Hampshire, Pennsylvania, Maine, Delaware, Virginia, Vermont, Wisconsin, and Minnesota.4 5 6
Myth #3: You Can Only Get Lyme Disease in a Wooded Area
You don't need to be hiking in the woods to contract Lyme disease. Ticks can be found wherever there is grass or vegetation, including your backyard. Though the adult tick's preferred host is deer, the immature nymph tick, responsible for the majority of cases of Lyme disease in humans, feeds on a wide range of small animals, including mice, birds, and squirrels.7
For example, the map below illustrates the tick-borne disease risk in the counties of Minnesota. Notice, there is a moderate to high risk of infection within the city limits of Minneapolis/St. Paul.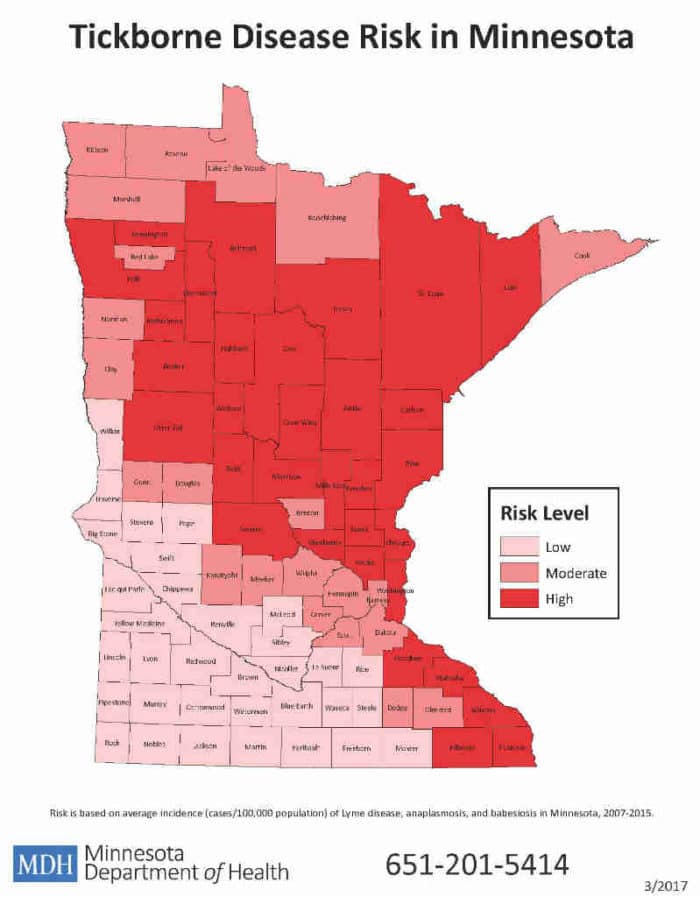 Myth #4: You Can Only Get Lyme Disease in the Summer
The adult stage deer tick actually begins its feeding activity around the first frost, and will latch onto any larger host (cat, dog, or human) whenever the temperature is near or above freezing. 8 9
Myth #5: You Will Know if You Have Been Bitten By a Tick
According to the International Lyme and Associated Disease Society (ILADS), fewer than 50% of patients with Lyme disease recall a tick bite. Research from Georgia Southern University revealed only 4% of those infected were aware of a tick bite.10
A bite often goes unnoticed due to the pain killers secreted in the tick's saliva and the tiny size of the nymph tick, which is no bigger than a poppy seed.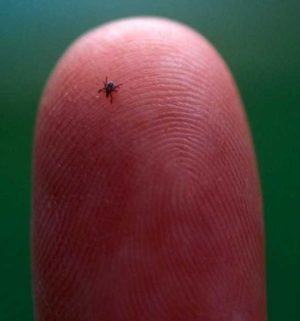 Myth #6: Everyone Infected Gets the Telltale Bull's-Eye Rash
According to the CDC, a rash only occurs in approximately 70-80% of those infected, and even fewer have the classic bull's-eye rash, erythema migrans (EM).11 12 A 2010 study in Maine revealed only 43% of Lyme patients exhibited the bull's-eye rash. 13
It is important to note that there are many different types of rashes that can be seen with Lyme disease. These rashes can be mistaken for spider bites or skin infections.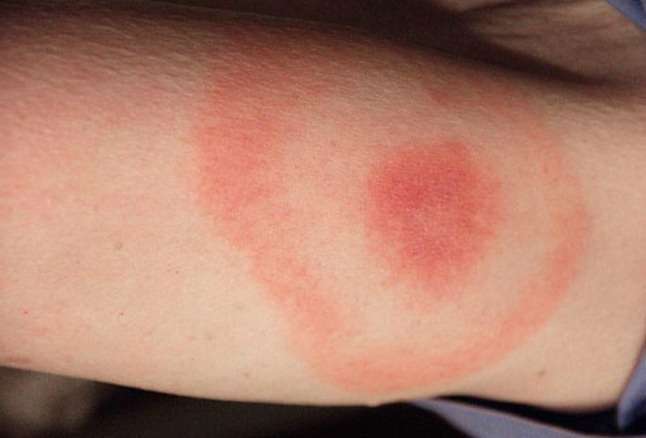 Myth #7: Doctors Agree on How to Diagnosis and Treat Lyme Disease
"The Lyme disease infection rate is growing. So is the battle over how to treat it."
There is significant controversy regarding Lyme disease. Two medical societies hold widely different views on the disease, making it difficult for patients to receive the medical care they deserve. 14
One medical society, the International Lyme and Associated Diseases Society (ILADS), regards Lyme disease as often difficult to diagnose and treat. In contrast, the Infectious Diseases Society of America (IDSA), regards Lyme disease as relatively rare and easy to cure. This group also denies the existence of chronic Lyme disease.
If you have symptoms of Lyme disease, it is important you consult a Lyme disease specialist (called a Lyme Literate Medical Doctor or LLMD). Recognize that opinions on how to diagnose and treat Lyme disease vary widely even among LLMDs, so it is worth getting a second or even a third opinion to find the Lyme specialist who best fits your needs.
Myth #8: Traditional Lyme Disease Testing is 100% Accurate
There are many different types (species and strains) of the Borrelia bacteria which may be missed with mainstream testing.15 Also, Borrelia has the ability to change its physical characteristics which can make it invisible to the immune system, unresponsive to treatment, and undetectable on diagnostic tests.
The current mainstream testing for Lyme disease can miss more than 35% of those infected.16 Because of the inaccuracy of Lyme testing, diagnosis should not be based on testing alone. Lyme disease is a clinical diagnosis which should be based on your medical history, symptoms, and exposure to ticks.
Myth #9: Lyme Disease is Easy to Diagnose
Similar to its "cousin" Syphilis, Lyme disease is called "The Great Imitator," because it can mimic many other diseases. Those with Lyme disease can be misdiagnosed with a variety of conditions including Chronic Fatigue Syndrome, Fibromyalgia, autoimmune disease, depression, anxiety, and neuropathy.
In addition to the Lyme bacteria, ticks can carry other bacteria, viruses, and parasites. These separate infections, called co-infections (contracted from the same tick bite), can cause a variety of symptoms, making diagnosis even harder to obtain.
Myth #10: Traditional Antibiotic Treatment Cures Lyme Disease
Persistent or recurrent symptoms of Lyme disease have been reported in up to 40–50% of patients on the typical 2-4 week course of antibiotic treatment. 17
Lyme disease may linger because of "persister cells," that manage to survive a short course of antibiotic treatment by going into a dormant state or by masking their presence.18 19 20 21 22 23 24
Myth #11: Treatment for Lyme Disease is Always the Same
No single treatment protocol works for everyone. Lyme disease and its related co-infections can react with the body in various ways. Treatment options should always be discussed in depth with a LLMD.
Myth #12: Chronic Lyme Disease Does Not Exist
If Lyme disease is not diagnosed and treated early, the Lyme bacteria can spread, become harder to detect, and prove less susceptible to antibiotic treatments. Weeks, months, or even years later, symptoms may develop, including severe fatigue, headaches, cognitive dysfunction, and pain. 25 26 28 29 30 31 32 33 34 35 36 37 38 39 40 41 42 43 44 45 46 47 48
"The bacterium at the root of Lyme disease, Borrelia burgdorferi, is an organism with a remarkable ability to mask its presence so that it won't be attacked by the human immune system."
Related Article: 12 Important Things You Should Know About Chronic Illness
Myth #13: Lyme Disease is Adequately Researched
Even though Lyme disease is the fastest growing Vector-Borne Disease in the United States, it is significantly underfunded relative to other comparable and less common illnesses.49 50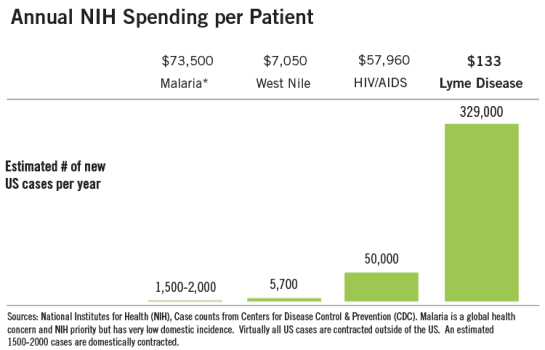 Image Source: Bay Area Lyme Foundation
Summary
Lyme disease is a misunderstood epidemic surrounded by controversy within the medical community, making it very difficult for those infected to find proper treatment. This has led to a widespread, alarming rate of very sick people struggling with an undiagnosed debilitating disease.
There is a dire need for further research to help explain the complexities of this very complicated disease and to develop accurate and universal screening tests for all stages of Lyme disease and its associated co-infections.
Physicians should be willing to treat their patients' symptoms rather than relying strictly on unreliable diagnostic tests and outdated medical guidelines.
"While great strides have been made in understanding and treating Lyme, little about the disease has ever been simple or straightforward."
Interested in consulting Dr. Stenehjem? CLICK HERE to learn more.
Disclaimer: The information contained on this site is intended for educational purposes ONLY and is not a substitute for advice, diagnosis, or treatment by your physician. It is not meant to cover all possible precautions, drug interactions, circumstances, or adverse effects. You should seek prompt medical care for any health issues and consult your doctor before taking supplements or making a change to your medications, diet, or exercise regimen. Read our full disclaimer.
© Copyright 2017 Mastering Health and Happiness, PLLC. All Rights Reserved.
Additional Resources
Tips to Prevent Tick Bites: http://www.bayarealyme.org/lyme-disease-prevention/
How to Properly Remove a Tick: https://www.lymedisease.org/lyme-basics/ticks/tick-removal/
Symptoms of Lyme Disease: http://www.bayarealyme.org/lyme-disease-prevention/lyme-disease-symptoms/
Lyme Disease Symptom Checklist: https://www.lymedisease.org/lyme-disease-symptom-checklist/
Dr. Horowitz's Lyme Questionnaire: http://lymeontario.com/wp-content/uploads/2015/03/Horowitz-Questionnaire.pdf
Find a Lyme Specialist in Your Area: ILADS Doctor Search
ILADS Lyme Treatment Guidelines: http://www.ilads.org/lyme/treatment-guideline.php
Recommended Book: Why Can't I Get Better?
Recommended Videos: Under Our Skin, LymeLight
References