Neck pain has been one of the most common medical issues I've seen in my clinics over the years, only second to low back pain. In the thousands of people I've treated, two factors almost always contribute to neck pain, no matter how abnormal the x-ray or MRI: (1) abnormal spinal alignment, and (2) poor muscle mechanics. Fortunately, these two issues can be managed easily with proper activity modification, stretching, and strengthening exercises.
How Abnormal Spinal Alignment and Poor Muscle Mechanics Contribute To Neck Pain
One of the key factors in managing your neck pain is learning how to keep your spine in a neutral position. A neutral spine begins with the position of your feet. When standing, your hips should be aligned with your ankles, shoulders aligned with your hips, and ears aligned with your shoulders (see the illustration below).
Your head should not be tilted backward or far forward (a slight forward tilt is fine). Your head/chin should not protrude forward. Your shoulders should be relaxed and not rounded in a slouching position or elevated in a tensed position.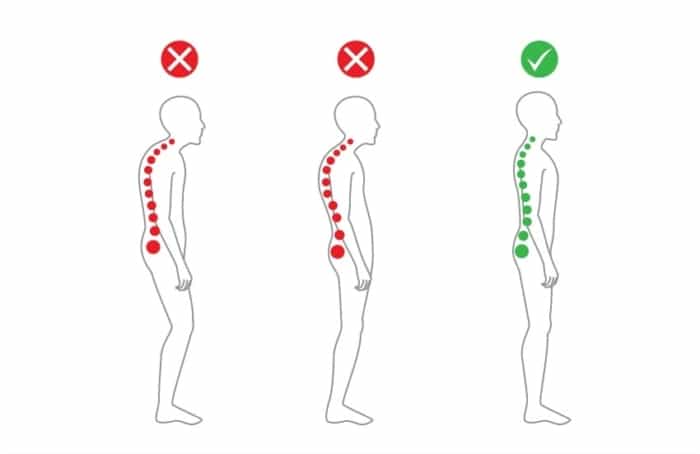 A neutral spinal alignment triggers contraction of the muscles that do not fatigue easily and rarely contribute to pain. If your spine is not in a proper alignment, the muscles that are activated are ones that fatigue easily, leading to muscle pain, cramps, soreness, stiffness, tightness, and even headaches.
Changing How You Do These 8 Activities Could Reduce or Even Eliminate Your Neck Pain
The activities you do every day can play a big part in your neck pain. Small changes to your spinal alignment (posture) and muscle mechanics could make a huge difference in your neck pain and quality of life.